Videography Services in Dehradun
We help artists, clients, and individuals create stunning videos for their projects and events with a memorable experience…
Videography is the art of making video content that is both presentable and meaningful to the audience. At Plunex Studio, we help clients with many types of video content, which include music, commercials, promos, weddings and other events. We have produced a lot of quality content over the years. We also collaborate with well-established studios to assist them with creating videos for their songs and commercials shoot. 
We provide services for shooting commercial ads, songs, and short videos for our clients. With our experience, we understand and know the taste of the audience and the trends, and the objective of the clients.  If you're looking for professional videographers in Dehradun for your special occasion, Plunex is the most sought-after and easiest way to find the perfect team of video production experts for your events.
Give us a call at [+91 8006777253 | +91 8006777254] or e-mail us at [contact@plunex.in] for bookings and inquiries.
Creating Candid Videography at Plunex Has Never Been So Much Better!
When it comes to videography for any event, everything is taken into consideration, from the planning stage to the final product, which is the final piece before it is released or published. Dehradun is home to Plunex Studio. Our production studio provides artists and clients, as well as start-ups and established businesses, with best-in-industry videography, video editing, video production, and post-production services. Also, our team of specialists can be hired to produce various types of videos, whether you want to make music videos, lyrical videos, live performance videos, brand videos, commercial videos, celebration videos, or any other types of videos. At Plunex Studio, we are not limited to specializing in just one type of project. Our team helps to create the brand image through the video ads. Advertisement videos are a good way to tell the story by creating an impact on the mind of the customers and it is very helpful in marketing strategy. Our team's expertise and compelling concept for creating videos have never been as amazing as with the rest. We work with artists and clients to create videos using a plethora of production styles and tools that highlight your artistic persona.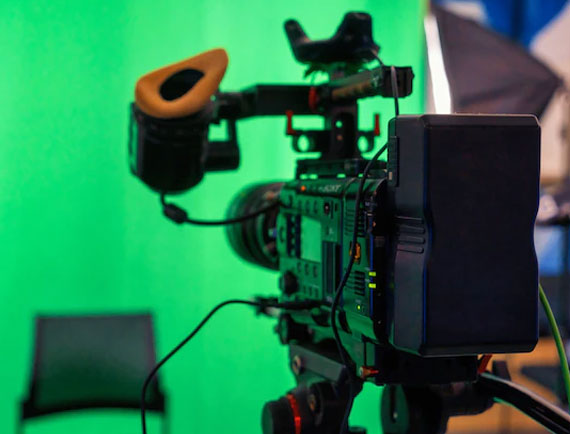 Video Shoot for Any Occasion
Plunex Studio offers the industry's best and most candid videography services in Dehradun. Whether you are a musician, singer, ad company, or an individual looking for professional videographers for your event. We offer many different video production services to suit your individual video needs.
A few of our premium video production services include:
In-house Video Production Studio

High Tech Equipment & Facilities

Impressive Video Quality

State of the Art Technology

Hard-working Team

TV Commercials

Social Media Ads

Service Promotions

Movie Teasers and Spoilers

Graphics and Animation

Product & Brand Promos

Videography for Numerous Events, Ceremonies & Celebrations

And many more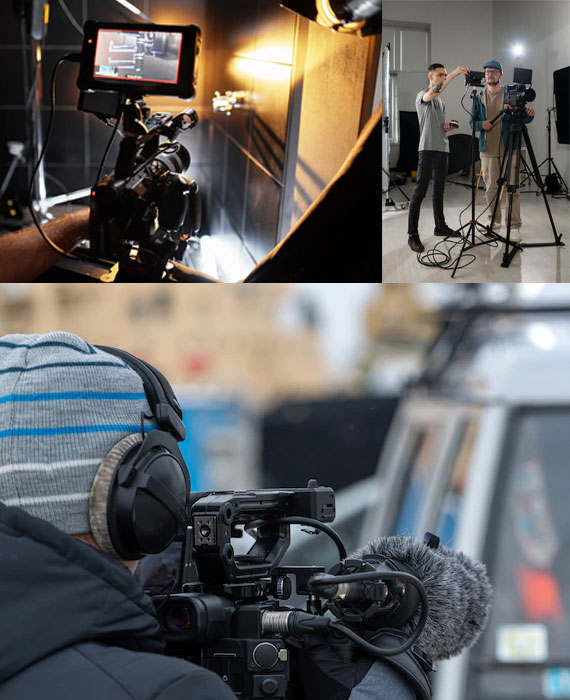 Give your artistic career or business the right tools to grow with our state of the art videography services. With our competitive and one of the best video production services, along with custom strategies and a dedicated team of professionals, we can help you turn your vision into reality. Our team is highly specialised in each of their roles, and using high-end technology and equipment to create amazing videos for any individual or business projects.
Why Plunex Studio?
Plunex Studio caters to providing the best videography services in Dehradun and other cities of India. Our art and entertainment studio comprises professionals that have years of experience in producing, editing and post-production operations which are creative and uncompromising quality so, our clients appreciate our work.
Our video content creation and production services are highly rich in content, every representation is realistic and captivating, too. In addition to this, the roles played by our team of professionals and staff and their co-ordination are competitive. Our video content is always comprehensive, which also brings forward both the clients and businesses to grow together as well as create direct impact on the minds of the customers. Sky is the limit for our team and this makes Plunex one of the best video production companies for advertisements, film-making, music, product launch and several more related content creation in Dehradun.
Our old clients are the proof of our quality work they appreciate our work and love to work with us again. Plunex has a creative team with a lot of talent and ambitions. They are constantly striving to come up with fresh video content ideas that will appeal to their target audience. Because each video requires a unique tale, the skilled team prefers to go insightly into any project they are working on, which involves story development, pre-production, and planning. Also, they are friendly as well as adjusting. These are just a few reasons why clients love working with us for their video creation projects.
Each member of our team is determined on energy, creativity and skills. Their passion is reflected in their work and they can beautifully turn your thoughts and expectations into magnificent results. Their in-depth knowledge is far-fetching and can be easily passed on to you. Thus, you will experience the best by working with our team.
How Plunex Studio Creates and Delivers Videography Beyond Imagination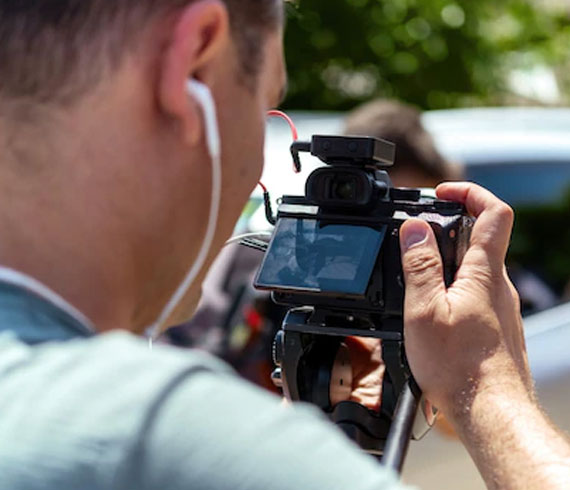 At Plunex Studio, we are into several types of art, entertainment and media production fields that cater really well to clients, artists and enterprises on a large scale. Our services are also rendered in many cities throughout India. Being a quality video production studio in Dehradun, we put in great effort and skills in the process of producing video content for music, cinema, television, social media, corporate promotions, advertisements and other media-related projects, and more. Video content production is usually involved in multiple aspects, all of which are related to video making, such as scripting, location scouting, and logistics, etc. Our in-house video production company, Plunex Production, produces all kinds of videos, from film-making for theatre or television to producing videos for ad campaigns, broadcast distribution, online streaming, e-commerce, social events, etc.
Our entertainment and media production studio work with a team of professionals who does a great number of things that are mostly centred on delivering quality content to clients. The team can help in hiring directors and crew, develop content, produce video based on the content provided to them, and even help with the post-production operations. Our team firstly have some research on your given idea or the  message you want to deliver then make accordingly which help to create proper impact and gives result for marketing strategy. 
OUR VIDEOGRAPHY SERVICES
VIDEO SHOOT STRATEGY
Our video production team has in-depth knowledge and experience and focus on producing quality video content for different types of projects. Each videography project may also vary depending on the requirement of clients. However, there is also an increased interest in making video content for social media that can be shared among audiences and keep them engaged. Developing such video content for can mean many things. In a general sense, this would also mean formulating creative ideas around a concept for the required ad and putting together a team of professionals to produce the video content. Typically, the video content creation process will start with a skilled producer, of which there are many different kinds.
SCRIPT/STORYLINE
Our team puts in a lot of focus on script writing and storyline for the required video shoot. At Plunex Studio, we also work with a team of experienced writers who writes scripts for artists, clients, and production companies. Having a well-prepared script and storyline for your video is a key to making them interesting and delivering the right message to your viewers. Message with creativity is the most important for any product and services to hit the sales in the market, so every time whenever you need  to shoot video for your product we promise to deliver the best in this category so that we always get success to depict the brand. That may be brand awareness brand documentary or it can be product videos.
CASTING
Another important element of pre-production is casting, which is also handled by our in-house production company in Dehradun. We work with several talent agencies all over India. At Plunex, we work with different casting and modeling agencies as some of our projects do require hiring performing actors, models, or extras, depending on the projects of our clients. We know which personality suits your product and the quality so our experts firstly research your projects and then made videos accordingly so choose the artist for a perfect match is known as casting.
HIRING CREW & PROFESSIONALS
Plunex Studio can also take care of constructing the crew list needed for your video shoot. Together with our expert team, we put together the whole project, so that we can do the hiring of the required crew members and professionals, and everything else needed throughout the video shoot. For a videography service provider like Plunex, within the video production industry, typically also does the part of the director. We can also help our clients select ideal locations for their video shoot, hire actors, models, work on performance and style, sound, and all in all, carry out most aspects of the video production, as well.
LOGISTICS
For a well-planned video shoot, there is a lots of things which need pre-shoots from all the equipment and the various artist. At our Plunex Studio production company consists of proper planning and availability of logistics. Our production company takes on a lot of the responsibility when it comes to planning a perfect video shoot for our clients. We also work with professionals to manage schedules with crew, artists, companies, and if necessary, the local authorities as well. This can usually help with a lot of important responsibilities, which may include deciding when it would be an optimal time to start the video shoot at the location.
Plunex Studio has a significantly large team of talented, experienced, extraordinary, and new generations of people performing in orchestra, dance choreographers, musical group, international band players, international artists in Dehradun as well as in many states and cities throughout India.
Our services are available in various cities, which include Jodhpur, Agra, Lucknow, Kanpur, Chandigarh, Ludhiana, Nashik, Aurangabad, Nagpur, Goa, Coimbatore, Calicut, Trivandrum, Thiruvananthapuram, Jalandhar, Pune, Jaipur, Udaipur, Thrissur, Ernakulam, Kerala, Hyderabad, Chennai, Ghaziabad, Gurgaon, Faridabad, Bangalore, Tirupati, Warangal, Mysore, Mangalore, Vizag, Visakhapatnam, Pondicherry, Ooty, Mumbai, Ahmadabad, Gwalior, Mahabaleshwar, Mount Abu, Surat, Ahmedabad, Kota, Jamshedpur, Ranchi, Kolkata, Madurai, Jabalpur, Raipur, Indore, Bhopal, Noida, Greater Noida, Gwalior, Jhansi, Mathura, Aligarh, Vadodara, Daman, Orissa, Bhubaneswar, and more.
Our Mission
We aim to promote, encourage, and boost the authentic skills of music in artists. Plunex Studio helps aspiring artists to showcase their skills as well as the extraordinary talents that such individuals want to show to other people around them.
Our Vision
We see in a way that both our present and future generations will come to know, be inspired, and transform better via means of the legacy, art, and unprecedented cultural and social effects that Plunex brings out to all.
Videography Service Bookings, Packages, and Pricing
Our professional and creative videography services can be availed at affordable prices.
Contact Us
Give us a call today and avail our best-in-industry videography services at Plunex Studio in Dehradun. You can contact us for more information about the services we provide to our clients, request services and more.
Give us a call today! You can also get connected with us on our social media platforms for assistance, consultation, and hiring professionals, etc.