Hire Our Best Professional E-commerce Photographers at Plunex Studio in Dehradun
Creative Photography for Your E-commerce Store
E-commerce stores across the internet require quality photos to display products from 360° angles with detailing shots for consumers. E-commerce photography also needs a lookbook photoshoot which is a collection of photographs of a product helping to attract the consumers and increase the traffic. Often, some of these products are also displayed with the help of human models and/or dummy mannequins. Taking perfect and quality photos for both the models and the products used for advertisements can make a big difference in the perspective of sales. This can be achieved by hiring professional e-commerce photographers. Plunex Studio is a leading professional e-commerce product photography studio based in Dehradun. Our team comprises creative and talented, Professional photographers that use state-of-the-art technologies and equipment, and put in their skills to create the best premium quality photos of products for the e-commerce industry all over India. To hire our professional photographers at Plunex Studio for your e-commerce store, simply give us a call at [phone] and our team will start the work as per your requirements. Our e-commerce photography packages are offered at reasonable prices, so our clients have no need to worry about that.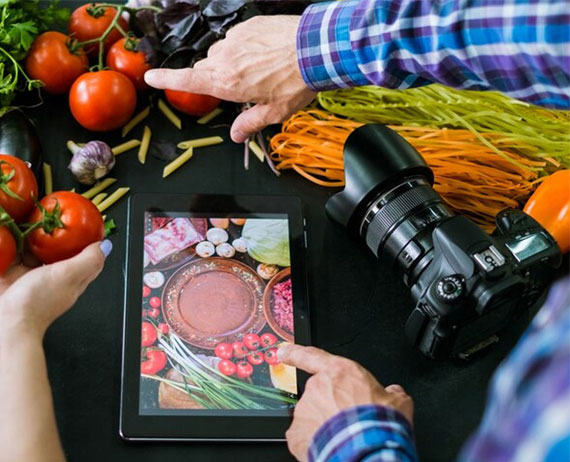 Photo Shoot of Models for E-commerce Product/Brand Advertisement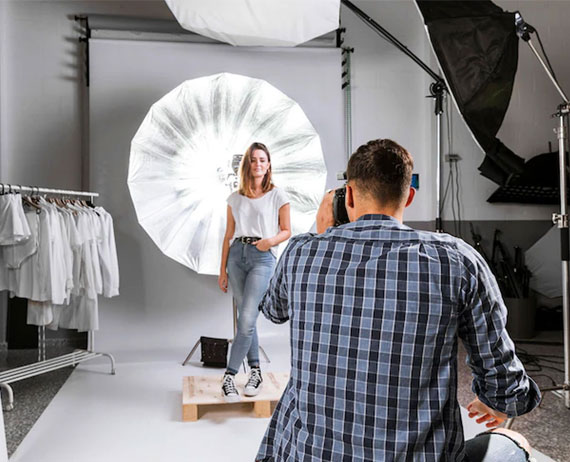 At Plunex Studio, we take great care in our approach, expertise, and mission when it comes to rendering professional photography services to clients for their e-commerce stores and product advertisements. In addition to providing photography services for displaying products on your e-commerce stores, we can also provide fashion models for hire, if our clients wish to choose this as an option. Models are required in the fashion, garments, ornaments, and jewelry products, through which consumers noticed every detail which is significant in the purchasing decision. If your online store requires models for displaying products, we at Plunex Studio can assist you with that as well. We provide fully integrated and in-house solutions to cater to the requirements of our existing and prospective clients nationwide. Our team of specialists includes professional photographers, technicians, fashion stylists, and make-up artists to name a few. The photoshoot of models hired for the purpose of advertising products on your e-commerce platforms is carried out at your preferred locations. We also give a modular and customized solution for all critical demands at our in-house photographic studio, whether it's showing fashion, jewelry, accessories, cosmetic products, home appliances, electrical devices, or other product categories.
Why Plunex Studio?
Plunex Studio is one of the best providers of e-commerce product photography services in Dehradun. As per e-commerce photography objective is to click on the details of products from all angles and try to highlight the brand's USP with recognition which helps to increase sales.  Our organization provides to clients with the core aims of creativity, participation, and partnership. With our flawless images and expertise, we collaborate with a team of professionals to build a plot of amazing product photos. Our e-commerce product photography studio in Dehradun deals in various fields of fashion, beauty, home, technology, and lifestyle products. We provide state-of-the-art online visual content for both online and on-premise retailers through a commitment to our work in full. We work together as a team with our valued clients to produce high-quality images of products (along with models) that are designed specifically to improve your brand's identity and eventually, speed up sales.
HERE ARE OUR CURRENT AND UPCOMING MODEL PORTFOLIOS FOR PHOTO SHOOT OF CLOTHINGS, JEWELLERY, AND E-COMMERCE PHOTO SHOOT
Plunex Studio based in Dehradun, is recognised as the premium service provider, offering services for:
E-commerce Product Photography

Garment Products Photography

Cosmetic Products Photography

Jewellery Products Photography

Wrist Watch Photography

And many more
At Plunex, our range of professional photography services are imparted by our talented and skilled photographers with years of experience. Our e-commerce photography services are highly demanded as we also offer outstanding features, which include proper execution, prompt delivery, and a client-centric approach. Our services are widely demanded by clients and companies that are engaged in selling their products through various mediums, such as online and print, including booklets, magazines and coffee-table books. Our team of professionals uses cutting-edge technologies and modern photography equipment to ensure that the photos shot are unmatched in terms of quality. We've made our e-commerce photography services easily accessible to clients and at budget-friendly prices.
OUR SERVICES
E-COMMERCE PRODUCTS & MODELS PHOTO SHOOT
There's a very wide area for exploring e-commerce products and fashion models photography in Dehradun itself and in other cities as well. When it comes to Plunex Studio whether you explore nature, landscapes, or explore the indoor world with portraits, or need e-commerce photography which is mostly in the indoor sights there are always endless opportunities. A few key areas where we stand strong are models photoshoots, professional photography of tabletop products, voluminous goods, furnishings, apparel, accessories, electronic gadgets, and much more. Through a research paper, it is claimed that product photography is the first thing that attracts the consumer and converts into sales. Especially in the online world people assumes the product parameters by demonstrating the product by the models.
E-COMMERCE STORE-READY IMAGES
With Plunex Studio, whatever you choose for your retail store, website, or online marketplace, model designs, stylish flats, tabletop items, jewelry, on-screen photography, etc., every picture shot is always amazing and clean and compatible with all formats like JPEG, PNG, etc. We give your products a visually appealing image with the models if required which they deserve to be displayed for your buyers. The photographs of your products are the first purchase of your customers because they create the first impression in customers' minds. We capture and specialize in such e-commerce product images from the briefing and layout as defined by our clients in which they seek perfection with their satisfaction.
PHOTO EDITING
E-commerce product photography has a large role to play in the growth of sales for your online marketplace. The first impression of customer contact is your product pictures. High-quality images with different angles help to gain the attention of buyers. High-quality images have a high impact on the purchase decision of customers especially if they are demonstrated by models. Our expert photography will assist you in creating, enhancing and expanding your online sales catalogue. For websites, online stores, marketing on various e-commerce platforms, printing and more, we specialise in premium-quality photography of consumer products and brands. Our team specialises in image retouching, background re-enactment, colour correction, airbrushing, cleaning, cropping, positioning, invisible model, multiple clipping paths, coloured masks, and multiple file supplies (JPEG/JPG, PNG, TIFF, PSD, etc.)
We Provide Professional E-commerce Product Photography Services Across India
We provide the best solutions for your online store's product photography with authorized partners, like Amazon, Flipkart, Myntra, Jabong, Aliexpress, Etsy, Instagram, Shopclues, Snapdeal, Ajio, Jaypore, Bigbasket, eBay, Voonik, Alibaba, Paytm and other online retail sellers. Plunex Studio provides professional photography services in several cities, which include Delhi NCR, Noida, Gurgaon, Ghaziabad, Mumbai, Kolkata, Jaipur, Tamil Nadu, Kanpur, Chennai, Hyderabad, Rajkot, Dehradun, Pune, Vishakhapatnam, Coimbatore, Chandigarh, Bangalore, Ahmedabad, Surat, Panipat, and more.
Speak With Us
Give us a call. Tell us about your product(s) and any requests or concerns you might have and we will be pleased to assist you.